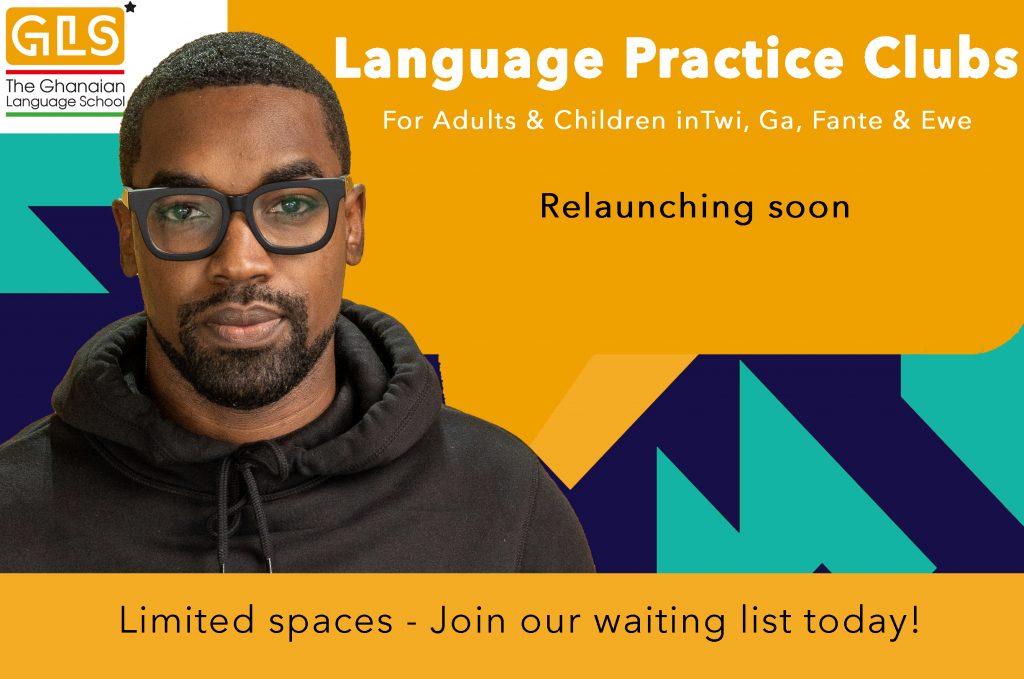 The GLS monthly 'Practice Clubs' are back!…
Hosted by The Ghanaian Language School team clubs are free for all students currently on a course, for the first 3 months, then payable thereafter.
The GLS Language Practice Club is just that – a place to practice speaking Twi, Ga, Fante or Ewe with the assistance of fun games, music, movie clips and more…
Members consist of current and former students at GLS, but the club is also open to anyone who has some existing knowledge of speaking the language/s.
Clubs are hosted monthly online and in person each quarter in venues across London.
Language club times
Adults
– Adults Twi Practice Club – Every last Friday of the month – 7pm-8pm
– Adults Ga Practice Club – Every last Friday of the month – 6.30pm-7.30pm
– Adults Fante Practice Club – Every last Friday of the month – 6.00pm-7.00pm
– Adults Ewe Practice Club – Every last Friday of the month – 7.30pm-8.30pm
Children
– Children's Twi Practice Club – Every last Saturday of the month – 12.00pm-1pm
– Children's Fante Practice Club – Every last Saturday of the month – 1.15pm-2.15pm
Email info@neo-native.com to join our waiting list – with the subject line
language club – kids/ adults to be notified when bookings commence