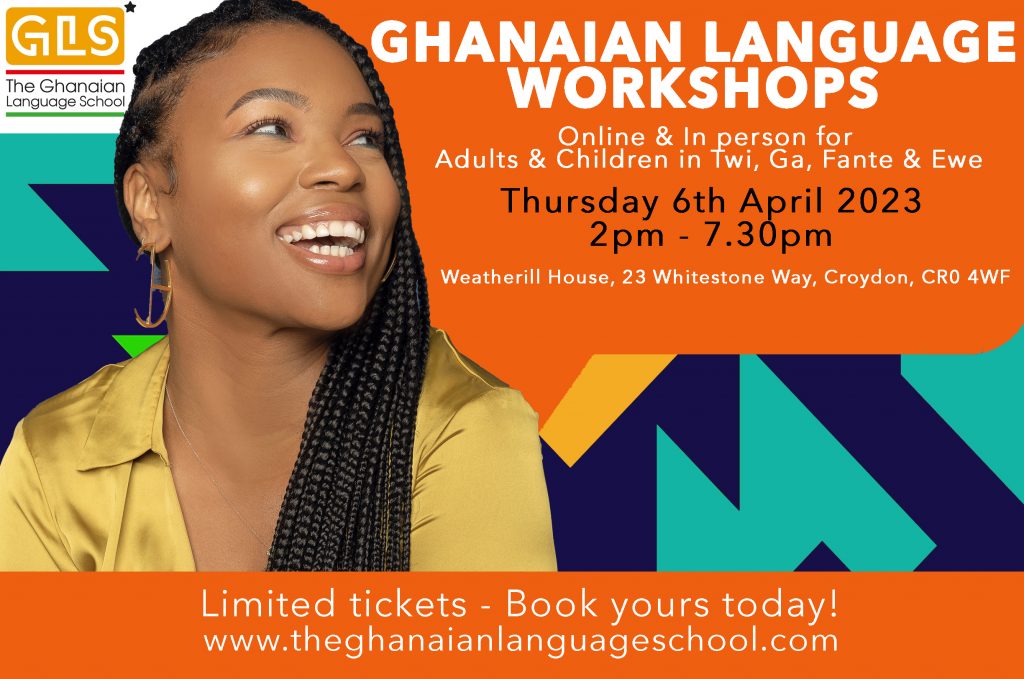 Do you want to learn the basics of interacting in Twi, Ga, Fante or Ewe?
Then why not attend our next workshop day.
You'll get to meet the GLS team, and have a peek into our amazing classroom experience!
ABOUT THE DAY!
This is an interactive and fun open day with workshops for adults and children running at set times during the day. Each workshop will provide an introduction to the Language you choose including useful phrases to help when travelling in Ghana, dealing with tricky family conversations, ordering a meal and more?
PLUS, If you sign up to a course on the day you get your workshop fee back!
"If you could speak a GHANAIAN LANGUAGE what's the 1st thing you would do?"
"Impress / conversate with your family and friends? Do Business in Ghana? or Make sure you don't get overcharged for that taxi?"
Whatever your motivation is for wanting to learn, this could be the start of your journey!
In each workshop you'll learn the basics of interacting in the language including:
– The alphabet
– How to take a taxi
– Ordering at a restaurant
– You'll also get to meet the Ghanaian Language School Team and find out more about what they do.
Programme
2pm – Sign in & meet and greet

2.30pm – 2.45pm Presentation from Ben & Naomi Fletcher (GLS Founders)

3pm – 4pm – Kids workshop

4.30pm – 5.30pm – Twi Adults workshop (Hybrid – online & in person)

5.30pm – 6.30pm – Fante Adults workshop (Hybrid – online & in person)

6.30pm – 7.15pm – Ga Adults workshop (Hybrid – online & in person)

6.30pm – 7.30pm – Ewe Adults workshop (Hybrid – online & in person)

7.30 – Close
*The Kids workshop will take a slightly different format – all children will come together for one workshop (in person only), combining some of the cultures and languages in a fun and interactive way. Teachers will also be on hand to answer any questions after the workshop.
Please note all children must be accompanied by their parents or a responsible adult at all times. No children will be permitted entry into the adult only workshops.
Tickets on sale soon – please send an email to info@neo-native.com with the subject line workshop waiting list to be one of the 1st to be notified.